E-Safety
From learning in class to playing games at home, children are doing more on the internet than ever before - and it's a wonderful place. However, just as in 'real life', it's important to make sure your child is staying safe online.
We know how demanding it can be to find the time when you're a busy parent, and also just how daunting it can be to try and work out if the information you've found online is up-to-date. We hope the information that you find on this page will help you keep yourselves and your families safer online, and to get the very best from our ever evolving digital world.
At Lilliput, it is one of our top priorities to educate ourselves and your children on the latest guidance and technology there is out there - not an easy task when today's latest trend quickly becomes tomorrows old news!
We have done our utmost to signpost you to the very best websites in this country that we have today - but please check back regularly for updates and fresh advice.
If you have concerns or questions regarding E-Safety, please email our school's E-Safety Champion, Miss Orchard, through the school office, or use the links below to take you to the latest advice.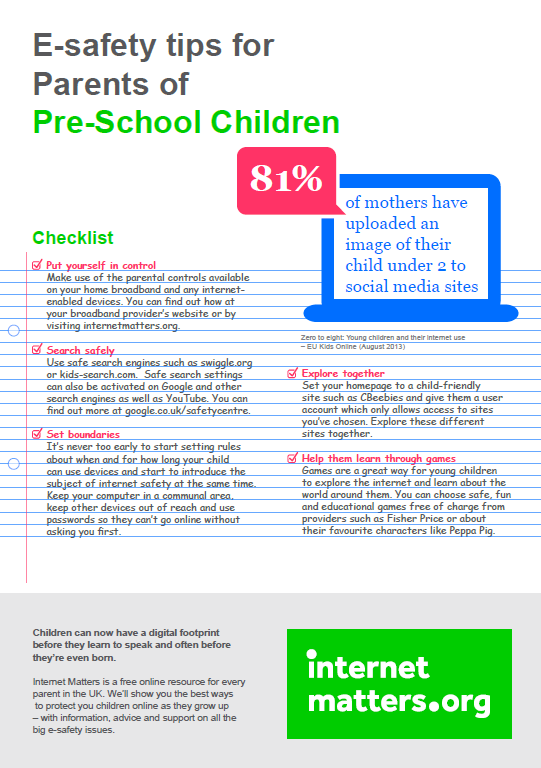 Internet Matters was launched in recent years. It is a portal dedicated to making sure all parents are only a click away from advice, tips and support about online safety for children. The information is divided into age-appropriate sections to help you talk to your child about the issues and technologies they'll come across as they grow up online. From setting your parental controls to teaching your child how to be a good friend online, you'll find a wealth of information so that you can spend less time researching and more time having fun with your family.
UK Safer Internet Centre or NSPCC Net Aware
Either of these websites offer a wealth of help and guidance when it comes to internet safety. In particular, clicking on these links will help parents and carers to find out the latest social media trends and how best you can protect your child's identities and help keep them savvy about the pitfalls they may encounter.
Childnet International offers videos and resources to help you open a conversation with your children about what they like to do whilst online and experiences they may have had.
The website they've all been talking about! - Common Sense Media helps families make smart media choices. They offer the largest library of independent age-based and educational ratings and reviews for movies, games, apps, TV shows, websites, books, and music. The Parent Concerns and Parent Blog help families understand and navigate the problems and possibilities of raising children in the digital age.
YouTube - 5 Top Tips for Parents
Developed by CEOP and internet parenting charity, Parent Zone, Parent Info provides up-to-date, expert information for parents on a range of concerns they may have about children and young people - from advice on how much sleep a teenager needs to information about relationships, sex and internet safety.
And here's some especially tailored for children -